I've just been floored by these verses recently:
John 13:34–35
A new commandment I give to you, that you love one another: just as I have loved you, you also are to love one another. By this all people will know that you are my disciples, if you have love for one another."
To be honest, this verse and all the others like it didn't do a ton for me. It was cleaner and less scary to just focus on me and Jesus and my doctrine and spiritual disciplines and gospel centrality, etc. But that isn't what Jesus says his new commandment is. Those things aren't what will make all people know we belong to Jesus.
It was also hard for me the grab on to it because it didn't feel practical. What does it mean? What does love between his disciples look like if it is causing all people to know that we are following Jesus? I am still very much trying to figure this out. There's a lot in scripture that would give shape to it, namely the "one anothers" that are all over the place (forgive one another, bear one another's burdens, rejoice with one another, etc). I hope we get the chance as a church family to explore what obeying our King in this new commandment looks like for years.
In the meantime, I think the foundational starting point of this new commandment is to simply be together. Maybe the next step for you is to make our Sunday morning gatherings a regular thing. Maybe it's joining a connecting group during the week. Those are big steps!
For a lot of us, the next step might be praying about how you might overlap your life with a brother or sister outside of the programs we do as a church family. To be clear, this could literally be anything! It does not have to be a serious spiritual thing. Maybe a game night, make homemade noodles (or just frozen pizza) and eat dinner, go grocery shopping together, watch a movie,  grill steaks and invite me over for dinner. Just kidding. It is especially helpful if its something we all do already, like run errands or work on house projects. When we do this together, we can move towards Jesus' command AND get stuff done.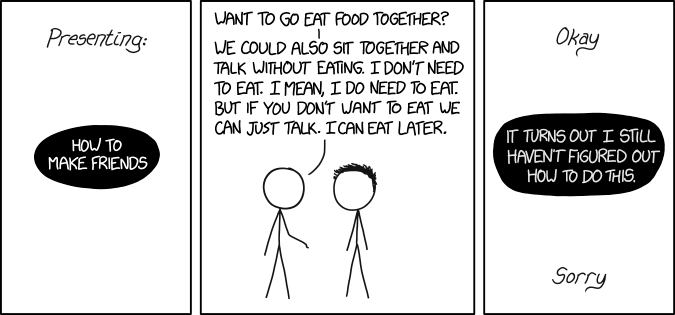 My point is this: this huge command from Jesus seems to be way less intimidating and easier to grab on to it we start by simply being together. And I think the 50 some "one another" commands begin to fall into place when we regularly spend time together. On the other hand, almost all of the "one anothers" are pretty tricky if we aren't regularly physically together. Being together is where trust is formed so encouragements can be heard and believed and sorrows and fears can be safely shared.
I know this is scary and overwhelming. I know most of us aren't extroverts. I know it will require us to say no to something else. I know Winter makes us want to put on slippers and sweatpants and burrow in. My hope is that we'll wear slippers together and see the Holy Spirit grow our joy in one another as we are the body, family, and bride of Jesus together.